Quercetin Advance - Licorice, Curcumin & Ginger Extract to Help Protect Cells from Free Radical Damage, Boosts Immunity, Fights Infection, Lowers Pain & Swelling
Immunity

Protect from Allergies

Anti-inflammatory
Inclusive of all taxes.

Quercetin Advance - Licorice, Curcumin & Ginger Extract to Help Protect Cells from Free Radical Damage, Boosts Immunity, Fights Infection, Lowers Pain & Swelling
Rs. 1,299.00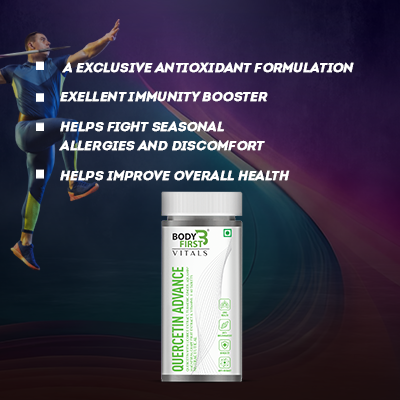 Immunity
The presence of curcumin, ginger and quercetin provides protection against oxidative cellular damage as well as tissue damage which helps in boosting immunity.
Protect from Allergies
Quercetin Advance consists of Curcumin, grape fruit extract and ginger which are capable of protecting cells from allergens by reducing inflammation and irritation.
Anti-inflammatory
Quercetin Advance consists of ginger, grape fruit, licorice, Aquamin® Magnesium, quercetin and curcumin which are rich in antioxidants and helps in reducing inflammation. It also helps in maintaining the overall health of the body.