My Crunch, Nutty Mango Nutrition Bar with Protein 4.9g, and No Added Sugar
High Protein

Rich in Fibre

On The Go Snack


No Added Sugar


Made with Real Fruits, Seeds and Nuts

Inclusive of all taxes.

My Crunch, Nutty Mango Nutrition Bar with Protein 4.9g, and No Added Sugar
Rs. 1,350.00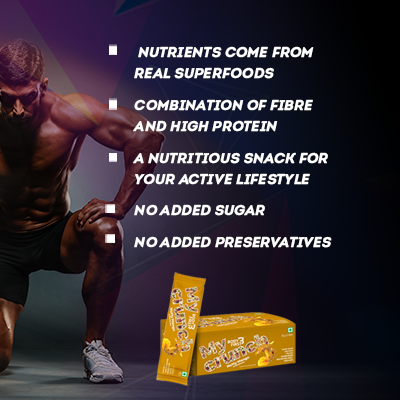 On-The-Go
This delicious nutty nutrition bar is the best on-the-go substitute since it is both healthier and tastier. Whether you are hungry or running to get to work, you are free to munch it anytime you choose. If you are hungry in the morning or the evening, this nutty bar is your best pick.
Enjoy Nourishment with delicious flavor
Get the flavor of real mango with this genuine supplement made with nutritious nuts. It includes real mango pieces with nuts and seeds like Whole Dried Dates, Cashews Pieces, Whole Almond, Whey Protein Concentrate, Oats, Baked Coconut Chips, Watermelon Seeds, Sunflower Seeds etc. You may get good energy and protein from this little treat.
Combination of High Protein and High Fibre
Each of My Crunch Nutty Mango Nutrition Bar contains a healthy serving of 4.9 g protein & 1.38 g fibre. Which provides balanced nutrition at any hours of the day with the best taste.
No Added Sugar & No added Preservatives
Enjoy your smart bite guilt-free because there is no added sugar. Fructo-oligosaccharides (FOS) helps in digestion and has a sweet, pleasant flavor. So enjoy every bite with real delight.