My Crunch, Chia & Dates Nutrition Bar with Protein 4g, and No Added Sugar
On-The-Go

No added Preservatives

On The Go Snack


No Added Sugar


Made with Real Fruits, Seeds and Nuts

Inclusive of all taxes.

My Crunch, Chia & Dates Nutrition Bar with Protein 4g, and No Added Sugar
Rs. 425.00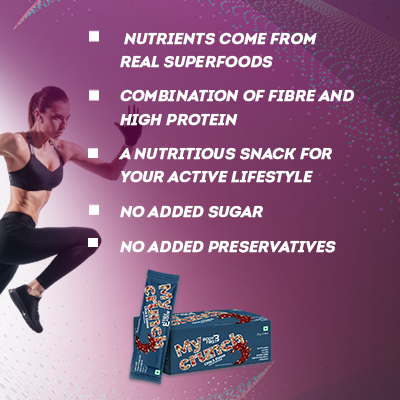 On-The-Go
The greatest alternative for on-the-go is this genuine supplement in a delightful nutrition bar that is healthier and tastier. You may use it whenever you want, whether you're hungry or rushing to get to work. This bar is your best option whether you are hungry in the evening, the morning, or even in the middle of the night.
A Real Treat to Enjoy:
It is rich in real nuts and seeds like Whole Dried Dates, Chia Seeds. Whole Dried Cranberries, Cashews, Whole Almond, Watermelon Seeds, Sunflower Seeds, Pumpkin seeds, Coconut chips, Oats Pieces, etc. This small treat will help you to provide good energy and protein.
Packed with High Protein & High Fibre
Each of My Crunch Chia & Dates Nutrition Bar contains a healthy serving of 4 g protein & 1.6 g fibre. Which provides balanced nutrition at any hours of the day with the best taste.
No Added Sugar & No added Preservatives
Enjoy your smart bite guilt-free because there is no added sugar. Natural ingredients are used to enhance the flavor. So enjoy every bite with real delight.