Multivitamin for Men & Women - 100% RDA of Vitamin C, D, E, B12, Biotin, Zinc, Minerals for Immunity, Energy, Stamina, Healthy Hair, Eye, Muscle & Brain Function
28 Micronutrients

Enhance Energy

Improve Immunity

Overall Wellbeing
Inclusive of all taxes.

Multivitamin for Men & Women - 100% RDA of Vitamin C, D, E, B12, Biotin, Zinc, Minerals for Immunity, Energy, Stamina, Healthy Hair, Eye, Muscle & Brain Function
Rs. 599.00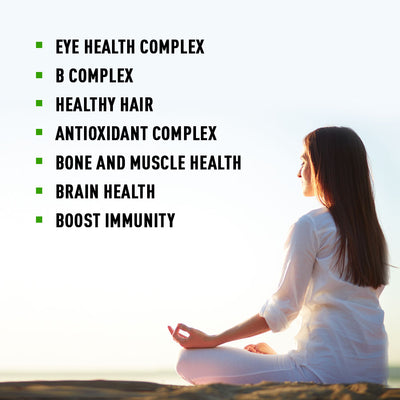 Improve immunity
Multivitamin & minerals combat the free radicals that destroy cells, improving and strengthening the immune system as it contains Vitamin C, Vitamin E and antioxidant complex.
Boost muscle & bone health
Calcium , Vitamin D, Vitamin K , Potassium are essential nutrients to boost muscle and bone health.
Maintain healthy hair
Vitamin A, B6, B12, biotin, folate and iron aid hair growth whereas Vitamin C and E fight free radicals and prevent any damage to hair follicles.
Boost brain health
Research suggests that Vitamin B complex helps produce energy needed in new brain cell development.