Collagen Slug with 2.5g Collagen Hydrolysate from Verisol, Germany - No Added Sugar - For Hair, Nail & Skin Health
Helps Reduce Wrinkles

Improves Skin Texture

Improves Skin Elasticity

Hair Growth

Promotes Growth And Health Of Nails

Imported from Verisol®, Germany
Inclusive of all taxes.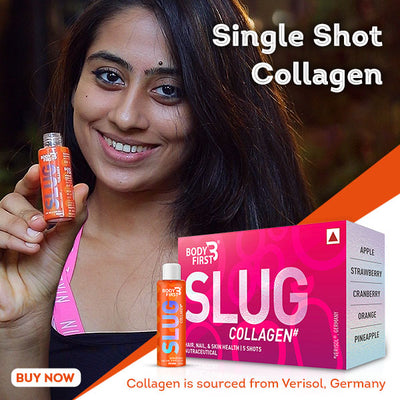 Helps Reduce Wrinkles
Orally consumed collagen has been proven in studies to boost collagen production and improve moisture levels in the skin which helps Make skin look younger.
Improves Skin Elasticity
Daily intake of Collagen protects the skin against UV rays, enhances the fibroblast production and extracellular matrix of the skin.
Improves Skin Texture
Supplementing Skin with collagen significantly increases the level of collagen under the skin, so the skin becomes thicker and the lines will diminish.
Hair Growth
Collagen containing genuine supplement products help promote hair growth and makes the hair strands stronger & thicker.
Promotes Growth And Health Of Nails
Collagen can help to improve growth and health of fingernails by decreasing nail roughness and peeling of nails.