BCAA Ultimino - 2:1:1 Fermented BCAA & Glutamine which Reduce Muscle Soreness & Improve Immune Function
Muscle Recovery

High Bioavailable

Reduces muscle soreness

Informed Sport Certified
Inclusive of all taxes.

BCAA Ultimino - 2:1:1 Fermented BCAA & Glutamine which Reduce Muscle Soreness & Improve Immune Function
Rs. 2,299.00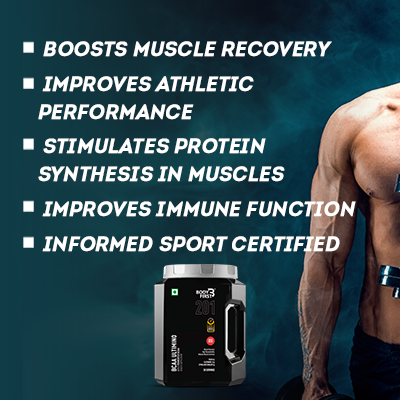 Muscle recovery
BCAA ultimino consists of L-Leucine which triggers the synthesis of protein. Glutamine which helps in improving muscle strength and Glutamine recovery.
High Bioavailable
The BCAA Ultimino is a blend of L-Leucine, L-Isoleucine, L-Valine, Citrulline D Malate and glutamine that helps in muscle mass gain and which is easily absorbed.
Reduces muscle soreness
The presence of L-Leucine, Citrulline D Malate and glutamine helps in improving the overall strength of the body and also leads to reduction of muscle soreness and discomfort.
Informed Sport Certified
Informed Sport is a global testing and certification program for sports and nutritional supplements. LGC's world-class anti-doping laboratory tests supplement items for contamination against a wide variety of prohibited drugs in sport utilizing ISO 17025 recognized methodologies. Athletes can consume our products with confidence.